This week, I received a cloth mask from the Ministry of Health, Labor and Welfare (MHLW), the so-called "Abenomask". It is more multi-layered and solid than I expected.
The Abenomask arrived
As shown in the picture. I live alone, but somehow I received two of them. 2 masks are in each bag, so I received 2 x 2 bags, which means I received 4 masks in total. Did the postman put two masks in the wrong bag?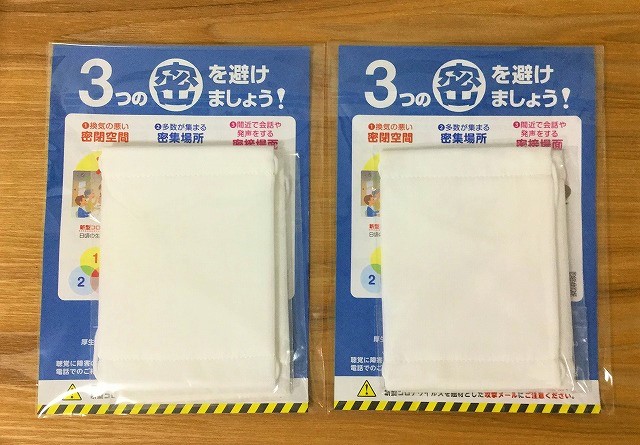 I opened one.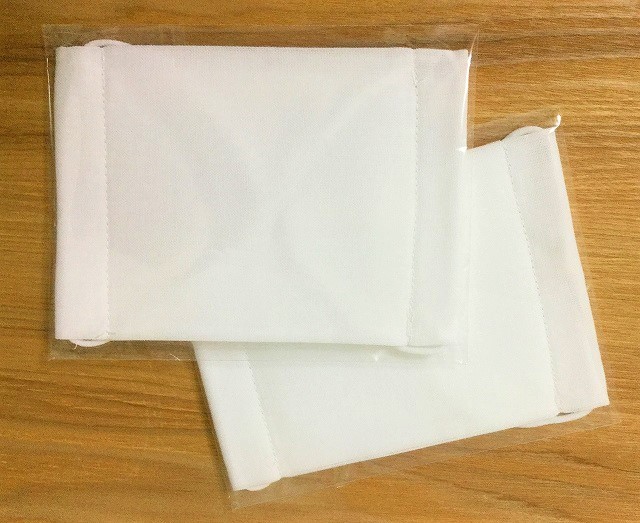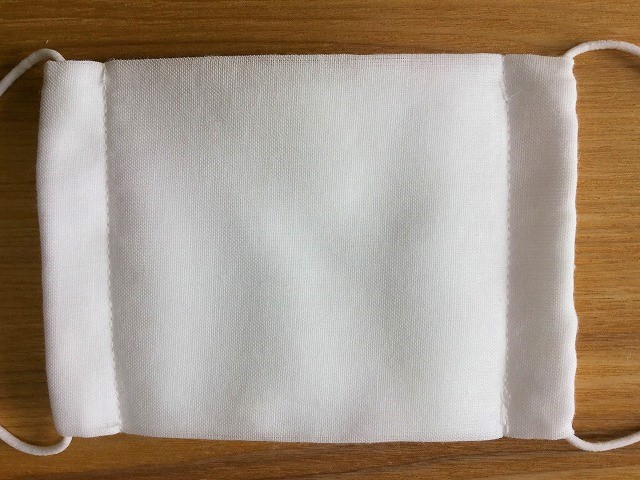 The size is 9 cm (length) x 13 cm (width). The length covers up to the chin, but the width is too short.
This is what it looks like when stacked with a regular 9cm x 17cm disposable mask. At first glance, you may think that the size is not that different. You may think it is, but if you are used to disposable masks, you may feel lonely on the sides.
I saw a picture of a celebrity wearing it on the Internet, but models and people with small faces don't feel uncomfortable even if they are adults.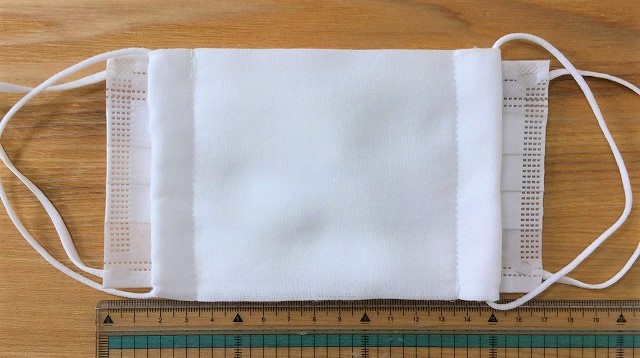 Before it arrived, I thought I would receive two or three layers of gauze, but this is very multi-layered. From the neatly folded side, there are five layers.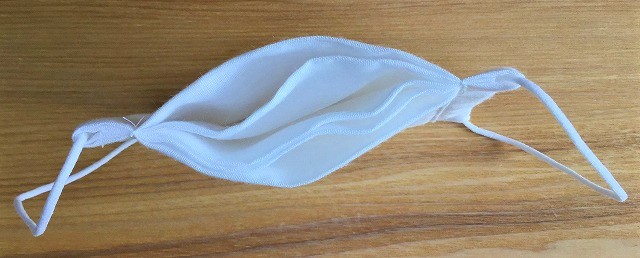 If you look at the opposite side, where you can see the gauze slits and such, there are about 1,2,3….10 layers of gauze. It is a very multi-layered structure.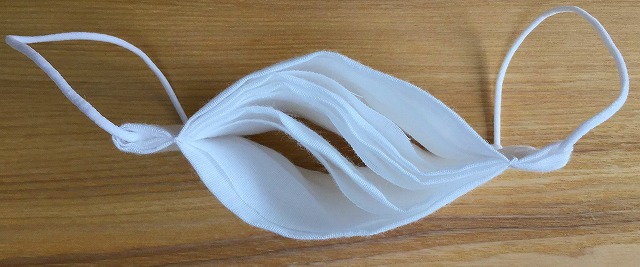 Weighs 11g.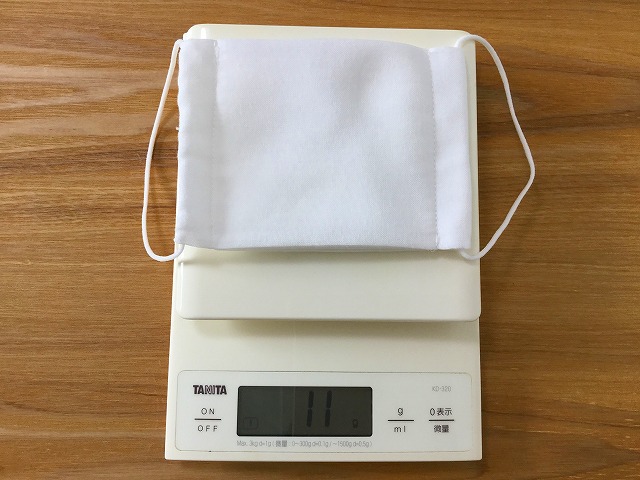 By the way, a disposable mask (made in China for 398 yen for 50 masks, sold in the past at Top Value and other places) weighs 3 grams.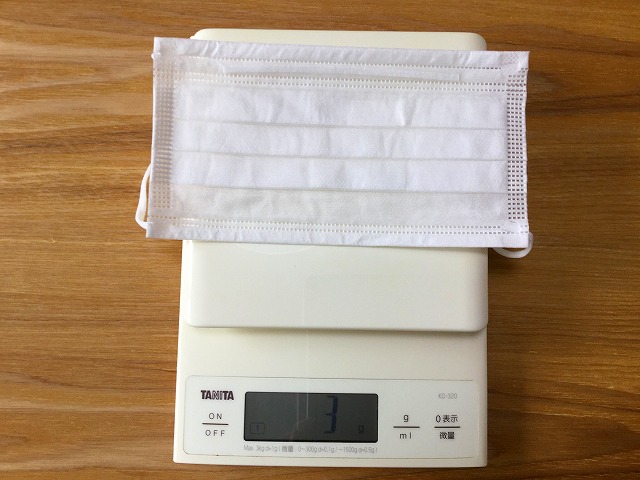 An information sheet included in the mask package. It also includes instructions on how to wash the cloth mask.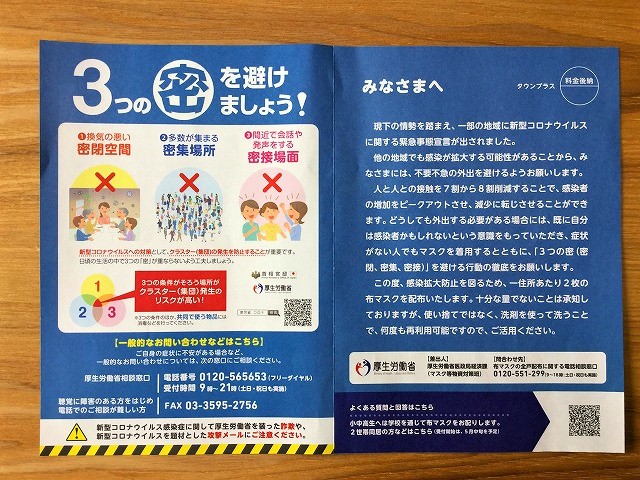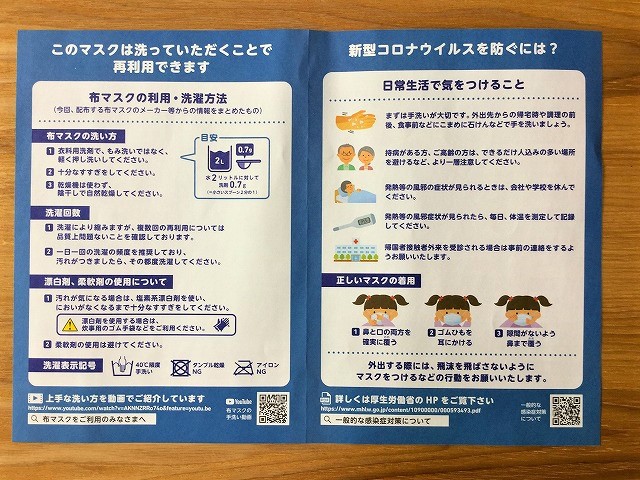 When I actually tried it on, I felt that the sewing was very careful and quite solid. In any case, the gauze is very thick. Unlike disposable masks, this one is thicker, so it may take some getting used to at first, but I think I'll be fine with a cloth mask from now on.
I have already purchased cloth masks separately online and have not received them yet, but I am looking forward to receiving them because they look like something I can wear to work.
Translated with www.DeepL.com/Translator (free version)
To donate a mask
I have been working from home since before the corona epidemic, and I only go to work when the company I work for instructs me to go to work.
In such cases, I had no choice but to use disposable masks, which were sent to me by family members far away or washed disposable masks.
So I don't want to use my disposable masks when I go to the local supermarket, so I think I will use the cloth masks I received for going to the local supermarket or convenience store.
I think I can use the Aveeno mask at work before I wash it, but I read on the internet that it shrinks a lot after washing. I searched for a way to prevent shrinkage, but I found out that gauze has to be threaded through water before it is made. I wish I could use it for a long time if it didn't shrink. But I will use it to the fullest.
Even if I use one of the sheets, I live alone, so I thought I would donate the other one. For some reason, I received a total of four sheets, so I will probably donate three of them.
It would be quicker if the city or ward had a collection box, but it doesn't look like there is one in my residential area. So I looked for where to make the donation.
Translated with www.DeepL.com/Translator (free version)
Sketter
Sketter is a service that matches nursing homes with caregivers who want to work there. It is operated by Plusrobo Inc.
All you have to do is enter the number of masks you want to donate on the website. There is no need to enter your name or contact information. All you have to do is send them to the address on the website. Shipping costs are paid by the sender.
We are asking those who can cope with homemade self-made masks, have extra commercial masks, or do not need two government-supplied cloth masks, to donate them to nursing homes that need masks now.
(Reference: Sketter website)
NPO National Network for Homeless Assistance
We are a non-profit organization that supports the independence of the homeless and other activities.
Simply send to the address listed on the website. The sender is responsible for shipping costs.
The government has announced that cloth masks will be distributed to all households. We have received a number of requests for donation of cloth masks, saying that they will not be used. We would like to gratefully accept them. We have member organizations all over the country. We would like to consolidate the collected masks and distribute them to member organizations that wish to receive them.
(Reference: NPO National Network for Homeless Assistance)

Translated with www.DeepL.com/Translator (free version)
Do you want to remake it?
Yes, first of all, I can't remake mine or anything, so I will use it normally.
On the Internet, there are people who immediately remake the masks they receive because they are too small. It seems that the government distributed masks become a piece of gauze when the sewing is unraveled. The person who is making a remake video on Youtube seems to be good at sewing. It seems that the mask received from the government is combined with another piece of cloth, and the gauze received is used inside.
This way, it can be used for a long time and effectively. I think people who can sew can make use of it.
The other day I was browsing the comments section of Yahoo! News and saw a comment from a man who was also making homemade masks. Accompanying that comment were many comments from men who said they were also making them by hand. I kind of understand that young men today would be able to do it dexterously, but the ages varied from people in their late 30s, 50s, 60s, and so on.
Some commented that even if they couldn't do it well at first, they became able to do it as they made it, or that they were addicted to it. I feel encouraged when I see such comments.
Recently, I have been seeing more and more people wearing cloth masks. The other day, I went to the supermarket and saw an elderly couple wearing matching cloth masks in different colors. I thought to myself, "I hope the wife made them – that's nice – what a nice couple.
I understand the opinion that spending 40 billion yen of taxpayers' money is a waste, but I think it is good that Prime Minister Abe, Governor Koike, and others are wearing cloth masks themselves, and that the general public is beginning to feel that cloth is okay.
There used to be some negative opinions about cloth masks, such as the fact that they let viruses through or that they are meaningless, but in the absence of disposable masks to begin with, reusing disposable masks is pointless. I don't know how effective a disposable mask, which originally cost 398 yen for 50 pieces on the market, is in preventing viruses.
Nowadays, the emphasis is on the concept of not spreading one's own droplet infection to others. If that is the case, cloth masks are sufficient unless you are a medical worker.
I washed it and it didn't shrink as much as I thought it would.
After one day of use, I washed it. The top is before washing and the bottom is after washing.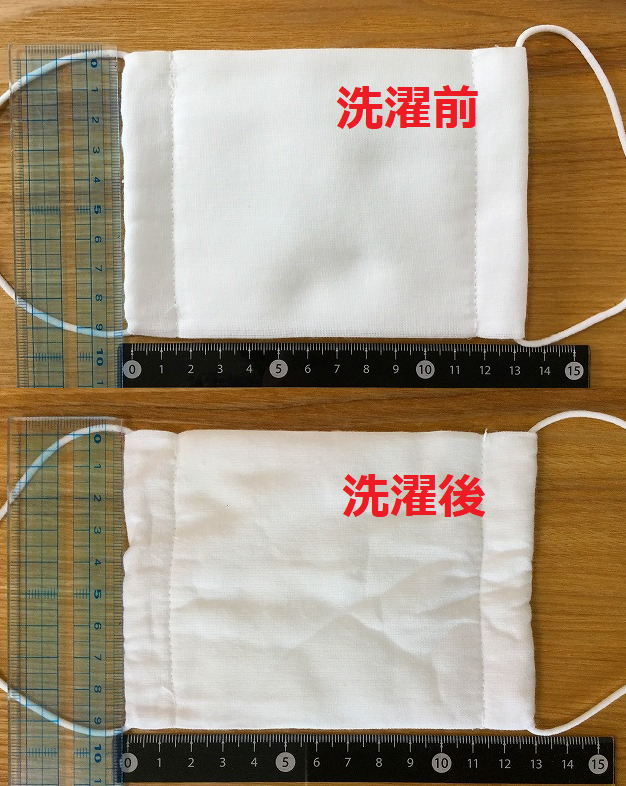 Before washing, it is about 9 cm (length) x 13.3 cm (width). After washing, it is about 9 cm (length) x 12.8 cm (width).
This is after washing and drying, so ironing has not yet been done. The length is almost the same. I was a little relieved because I thought it would shrink more than 1 cm more tightly.
I put it in a laundry net and wash it in a drum-type washing machine as usual. I was searching the net for a way to wash my disposable masks when I was running low on disposable masks, and I found someone who was washing disposable masks in a washing net.
I imitated them and put several disposable masks in a laundry net and put them in the washing machine. They are wrinkled, so you have to iron them, but once ironed, they can be used normally.
I thought, "If disposable masks can be washed in the washing machine, maybe government masks can be washed in the washing machine too…" and put them in the laundry net and put them in the washing machine. So I put them in a laundry net and washed them in the washing machine. As with the disposable masks, they wrinkled, but they were fine.
I was most worried about the shrinkage, but it was not as bad as I thought it would be.
I would like to use it for as long as possible anyway. But I threw them in the washing machine instead of washing them by hand….