Recently, I started working at home on weekdays, but I don't get very much done at home. So I have been working more and more in co-working spaces, and I bought a privacy filter along with a new PC.
Buy the privacy filter
YMYWorld protecting peeping filter
At any rate, without thinking anything in particular, I bought a 13.3″ one on Amazon that seemed popular and inexpensive. 2,880 yen.
| | |
| --- | --- |
| Reflectance | 5.8% |
| Visible Light Transmittance | 72% |
| Blue Light Reduction | 49% |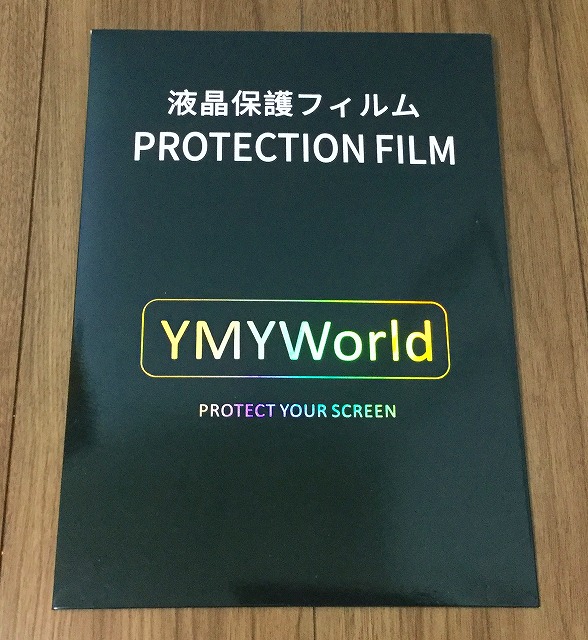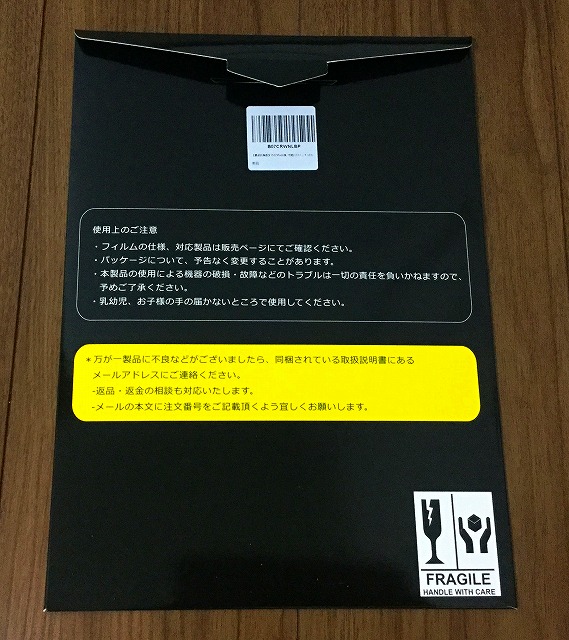 I immediately put it on my Lavie Mobile Pro and tried e-mail and browsing the net, but…
Damn, it's too dark…
The brightness of the PC was set to 80%, so I set it to 100%. But it is still dark. I don't remember the privacy filter being this dark…?
In the past, I always used a privacy filter when I brought my company's PC when I was stationed at a client's site, and I also used a privacy filter when I occasionally used my personal portable PC on a train or at a café.
So, I had no resistance to using the privacy filter, but the darkness lowered my excitement even when I had my new PC in front of me. It's too dark and the text looks blurry, and it's hard to work for a long time with this.
Amazon's rating of YMYWorld's filter is pretty good. There is a possibility that the one I purchased was not by chance. I don't trust Amazon's ratings, either.
I have been using the same favorite mouse for a long time, and I always buy the same mouse when I need to replace it, but even with the same product, mice can be hit or miss.
I have a quiet mouse, but when I compare the sound, one is perfectly quiet and the other is a bit noisy, and sometimes there is a difference in quality. I wonder if privacy filters are also hit or miss.
This company, YMYWorld, is a mystery: there is no website, a Google search does not turn up any company information, a corporate search on the IRS website does not turn up anything, and the only contact information on the Amazon seller profile is a phone number." A search for "YMYWorld address" seems to indicate that the virtual office address is registered with Amazon.
The Amazon seller profile states.
"✽Because we operate with a small number of people, we may not be able to take your calls."
The only contact information for support is a Gmail address on the product package, so it seems like the seller is a private individual. But there are quite a few products listed on Amazon, so I wonder where they are manufactured. OEM from China? Mystery…
ELECOM LCD protective film, anti-peeking, privacy filter
I've used privacy filters in the past and never had anything that I thought was too dark to work with. But I don't even remember what I used before. I mean, I wasn't even aware of it. I don't have it anymore at hand because I returned it with my company's PC when I finished the job site at that time.
And come to think of it, I must have bought a privacy filter for my 10-inch HP PC that I carry around with me. It had 4GB of memory and ended up sitting in the closet, useless outside the house, but I looked for it and found a PC & privacy filter!
I put it on and it was.
Bright.
The brightness & clarity is clearly different. I can work for a long time with this. However, it is for 10″ size, so the size does not fit.
I tried to buy the same one for 13.3″ size, but I couldn't remember which maker it was. It was Elecom, and the price was 3,054 yen.
リンク
| | |
| --- | --- |
| Reflectance | 5.5% |
| Visible Light Transmittance | 69% |
| Blue Light Reduction Rate | 約42% |
| Ultraviolet Light Cutting Ratio | 99.9% |
| Filter Thickness | 0.3mm |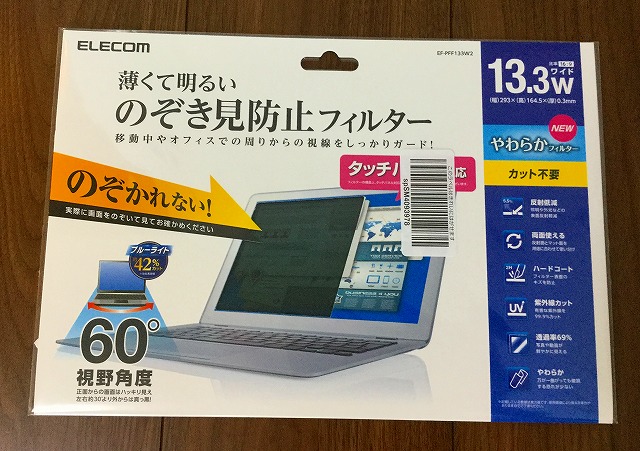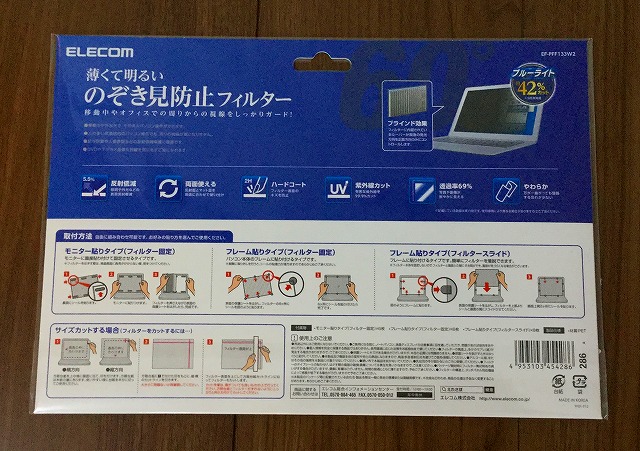 Compared to typical privacy filters, this one is 0.3 mm thinner. It is soft.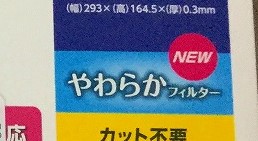 Some people don't like the softness, but this softness is good. Because of its softness, it sticks to the screen.
I wear the privacy filter outside and remove it at home, so I use it with nail tape on my PC so that I can easily remove it.
The double-sided adhesive tape does not stick the filter firmly to the screen, so the entire filter, regardless of whether it is hard or soft, floats slightly, but the soft type adheres to the screen as if it is completely attached to the screen.
If you look at it from about 45 degrees to the side, it is dark. It guards the screen. It's a good feeling.
The visible light transmittance of YMYWorld is 72%, while that of Elecom is 69%. The higher the number, the brighter the image, but Elecom's, which has a lower number, is clearly brighter and easier to see.
Elecom is an IT equipment manufacturer founded in 1986 and headquartered in Osaka, Japan. According to Elecom's Wiki page.
"The company boasts the top market share in the industry in 13 divisions, including mice and keyboards, and is also strong in smartphone-related products."
That's amazing. That's impressive. Surely, each of us has or had at least one Elecom product of some kind.
Also
"Elecom sells about 17,000 products on a model number basis. Between 4,200 and 4,300 new products are developed each year, and almost all of them are replaced in three to four years."
I think 3-4 years is pretty soon. I hope this thin privacy filter will not disappear.
Also
"It is also a virtual mobile network operator (MVNO)." and it says, "Elecom is also a cheap phone? I looked it up and found that they had a cheap phone service called SkyLinkMobile, but they pulled out of the market in July 2018.
Notice of Change of Service Provider and Termination of Part of SkyLinkMobile/SkyLinkPhone Service
(Reference source: Elecom SkyLinkMobile website)
The company entered the MVNO market in September 2014 and withdrew from the market in July 2018. It is hard to believe that this is a Japanese company that is changing so quickly. It seems that Wiki has not caught up with them as there is no mention on Wiki that they withdrew from the market.
*(Added on 2020.1.11) Elecom's Wiki page says, "…July 2018: Withdrew from MVNO business. With the withdrawal, SkyLinkMobile/SkyLinkPhone services were transferred to iCube Marketing, Inc." was added and the sentence "We are also a virtual mobile network operator (MVNO)." was deleted.
Wikipedia is relatively more credible than those web pages, but the source of information is not always from official statements as mentioned above, so what is written in the Wiki may be wrong.
In the Youtube video Toranomon News "[DHC] Tuesday 1/7/2020 Naoki Hyakuta x Yoshiko Sakurai x Ippei Izima [Toranomon News]", Yoshiko Sakurai's background was introduced as "Keio University dropout", but she said she did not attend Keio University at all. The Wiki says so, but the Wiki is wrong. The Wiki says so, but it was a mistake on the Wiki.
3M™ Security/Privacy Filter PF13.3W9 H2
I was looking at Amazon to see how privacy filters vary so much from product to product, and I found that high-grade privacy filters also exist. I wonder what a high-grade filter looks like. Clear from the front and completely black from the side?
I was curious about the high-grade type, and when I looked at 3M's website, which offers a high-grade type, I found a product that looked amazing.
3M™ Security/Privacy Filter PF13.3W9 H2
Visible light transmission 80% and reflectance 0.7%.
In addition to 3M, Kokuyo offers products with visible light transmittance of 80% or higher, and 90% or so. I think Kokuyo's highest reflectance was around 0.9%. I'll buy 3M for now, partly because 3M is a pioneer in film materials.
For Kokuyo's high-grade type, search for "Kokuyo privacy filter" on Amazon.
This 3M product is not available on Amazon, so I bought it at caravan-yu.com for 7,469 yen. It seems to be available on Rakuten as well.
リンク
| | |
| --- | --- |
| Reflectance | 0.7% |
| Visible Light Transmittance | 80% |
| Filter Thickness | 0.5mm |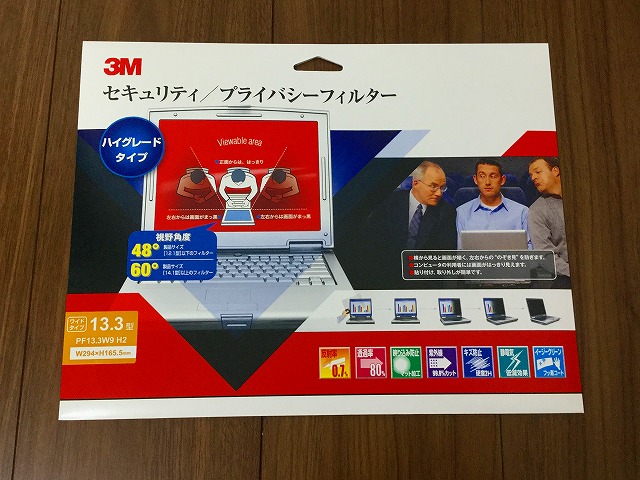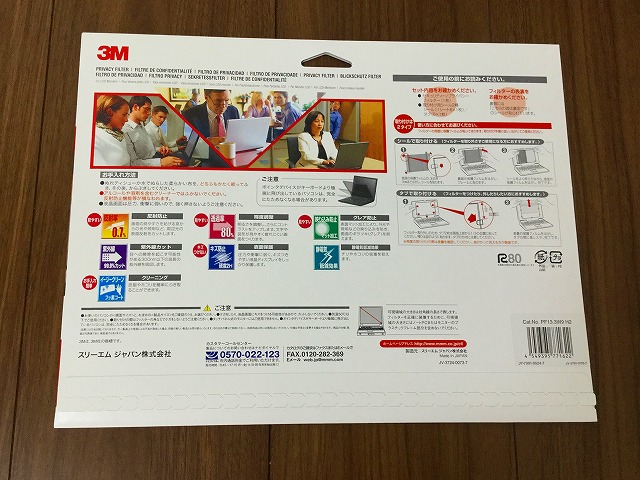 I put it on.
Bright!
The screen is clearly brighter than other screens. It is white, like a web page with a white background. But from the side, the screen is completely black. This is the power of 3M with 80% visible light transmittance…!
3M is a long-established chemical and electrical materials manufacturer founded in 1902 and headquartered in Minnesota, U.S.A. While researching 3M, I learned that Post-It, which is synonymous with sticky notes, is a 3M product.
The official 3M website describes visual hacking. It is natural to be careful outside the company, but it is also important to be careful within the company.
Departments that handle information that can only be accessed with special authorization, such as accounting departments or business departments that handle personal information of clients, are restricted by access cards. I see.
It looks like there are gold ones, too, instead of black ones when viewed from the side.
3M™ LCD Protective Privacy Filters HP
https://www.3mcompany.jp/3M/ja_JP/privacy-screen-protectors-jp/
(Reference source: 3M official website)
Comparison of 3M, Elecom, and YMYWorld
The following is a comparison of each of the three manufacturers. The following are the shooting conditions used in the comparison.
The 3M filters are two to three times more expensive than the others, and are the highest grade available. This is not a comparison of products in the same price range of each manufacturer.
The two companies were photographed side by side for comparison. Perhaps because I happened to have placed the brighter manufacturer's on the right when the photo was first taken, the theory that the brighter one was placed on the right began to boil over, so I photographed the pattern with them placed on both the left and right sides.
Since the angle conditions differ depending on the position of the camera for a moment, when comparing the two companies, only the filters were changed while the PC and camera were fixed, so the comparison is based on the same conditions with regard to the shooting location and position.
When the two companies are placed side by side, the brighter one looks brighter and the darker one looks darker, although I do not know if this is a camera problem or not. I took the photos in a position as close as possible to the actual appearance, but the actual product has a little less difference in shading.
After the photo was taken, we put a round tape on it so that you can identify which manufacturer it is from the photo.
Elecom → Blue
YMYWorld → yellowish green
3M → Pink
The brightness of the PC screen is taken at 100%.
The screen sample at the time of comparison is Google's Wiki page.
Comparison with the version with nothing attached to each
For now, we placed the left half screen with nothing on it and the companies' on the right half.
Left: None / Right: YMYWorld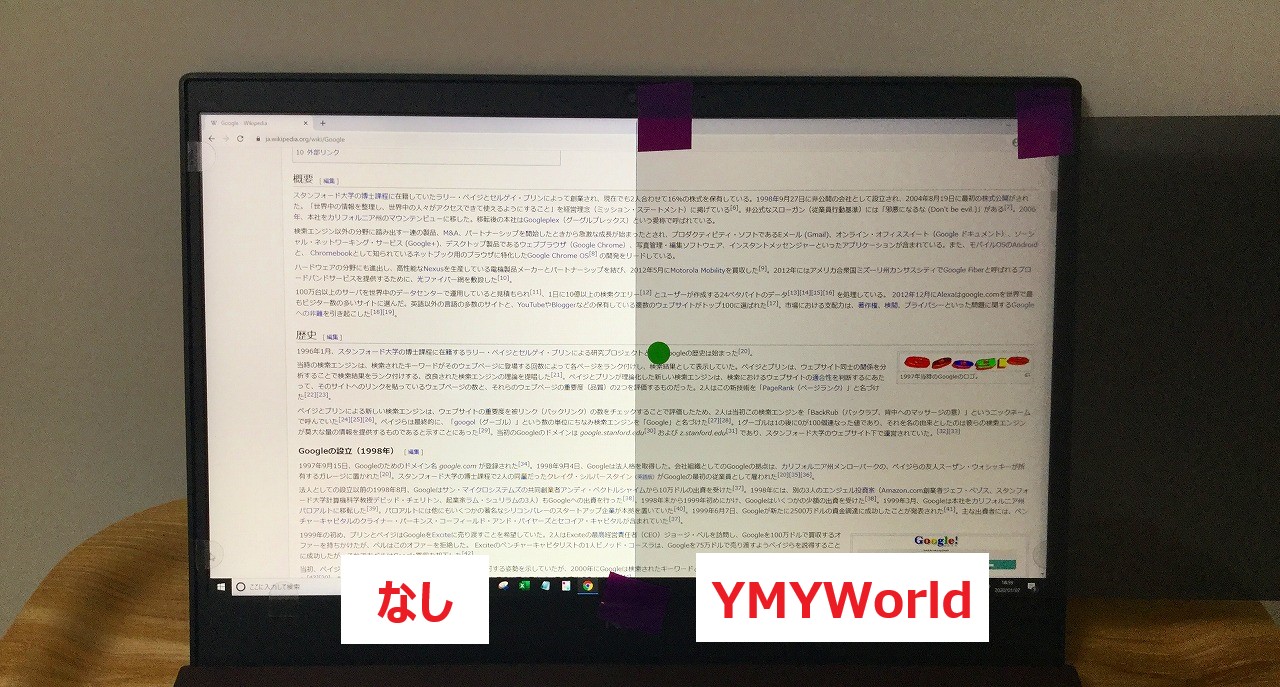 Left: None / Right: Elecom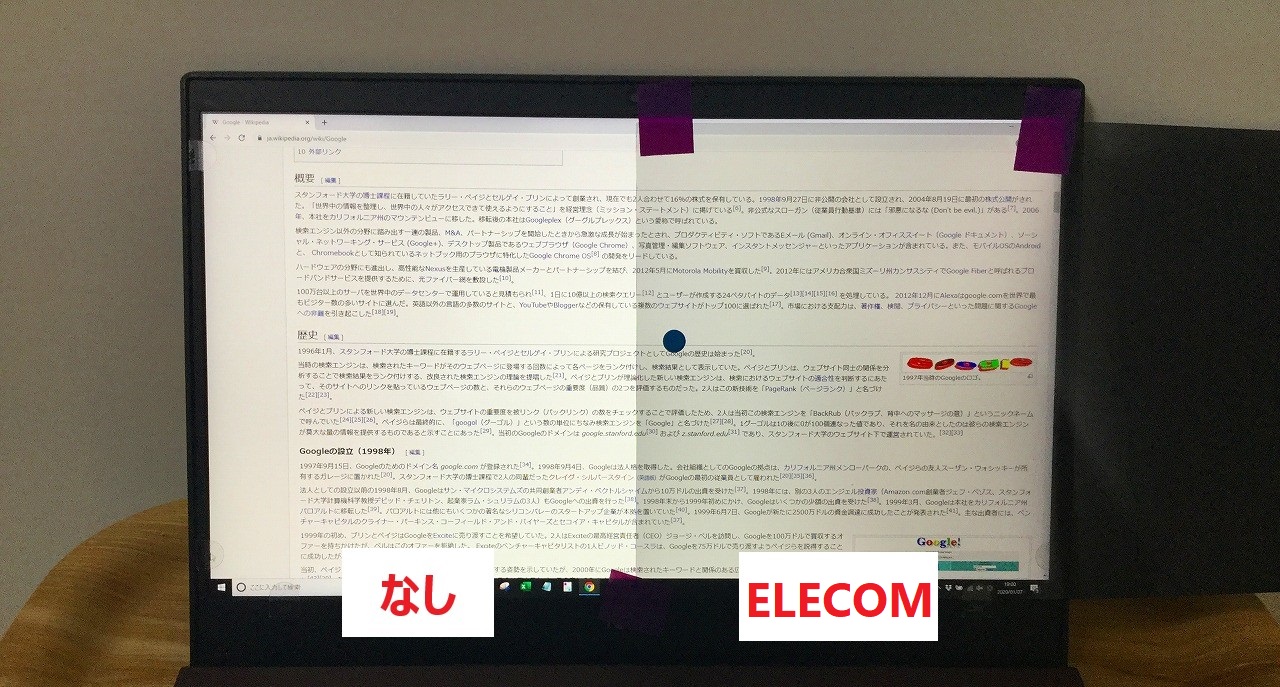 Left: None / Right: 3M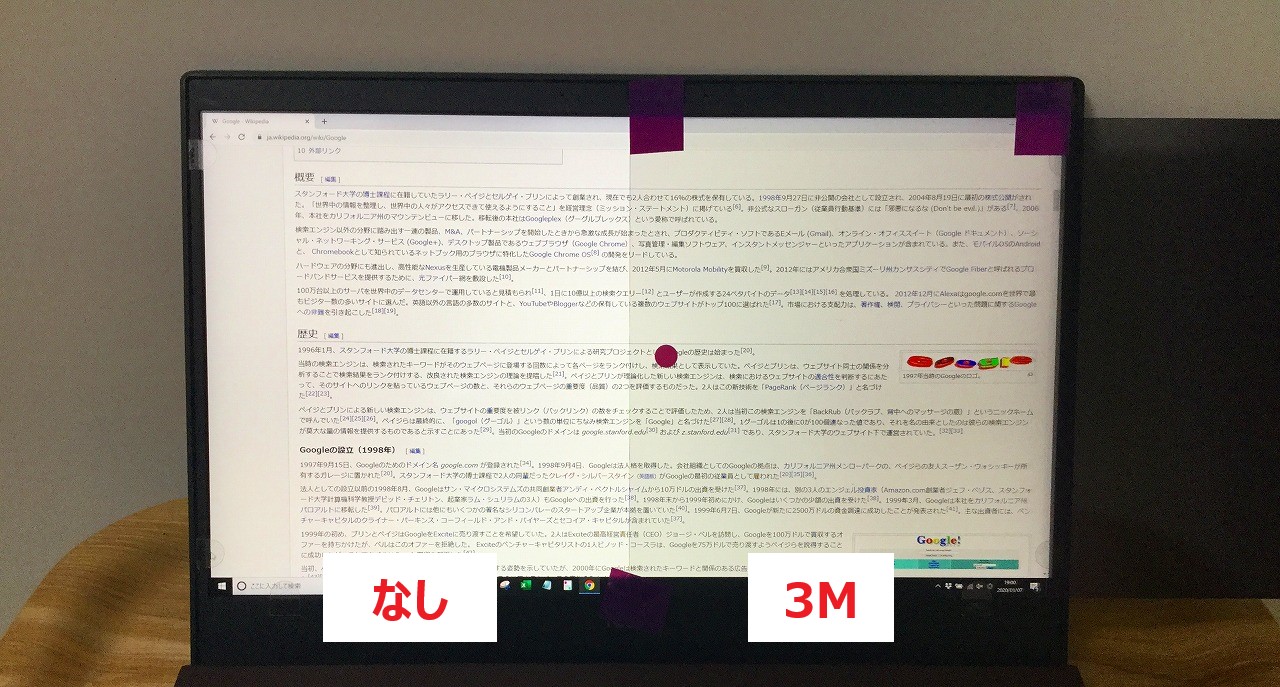 Elecom vs YMYWorld
Left: Elecom / Right: YMYWorld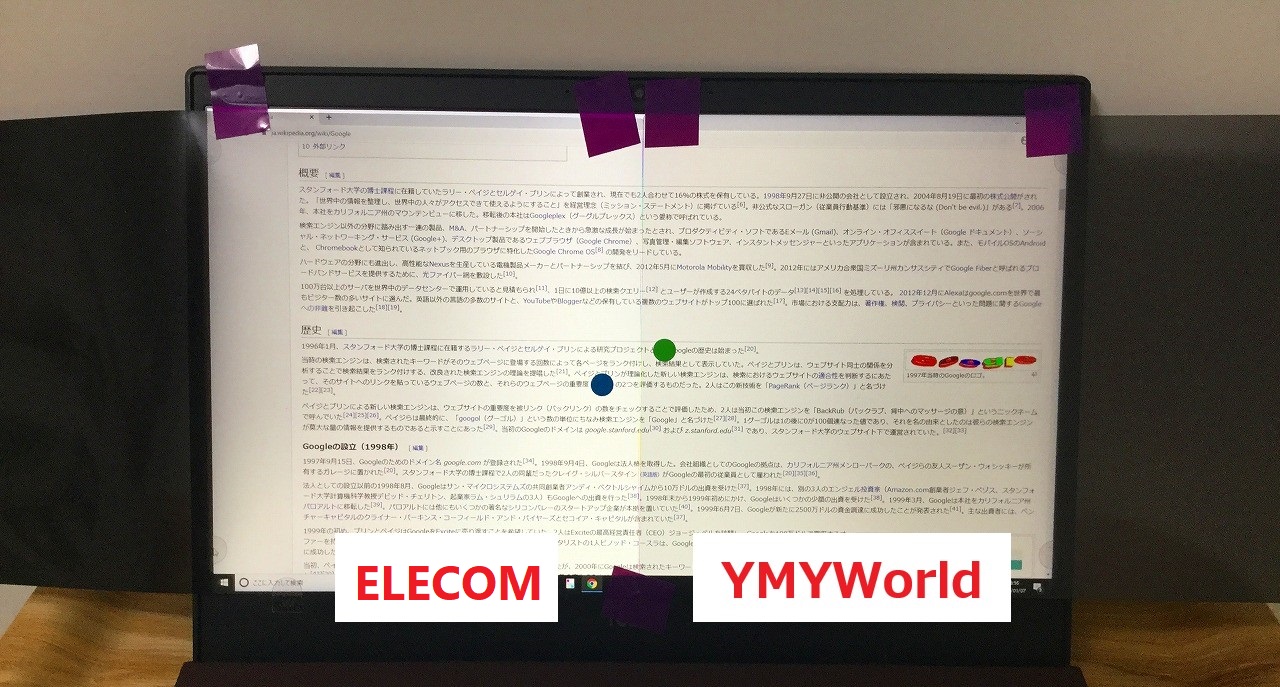 Left: YMYWorld / Right: Elecom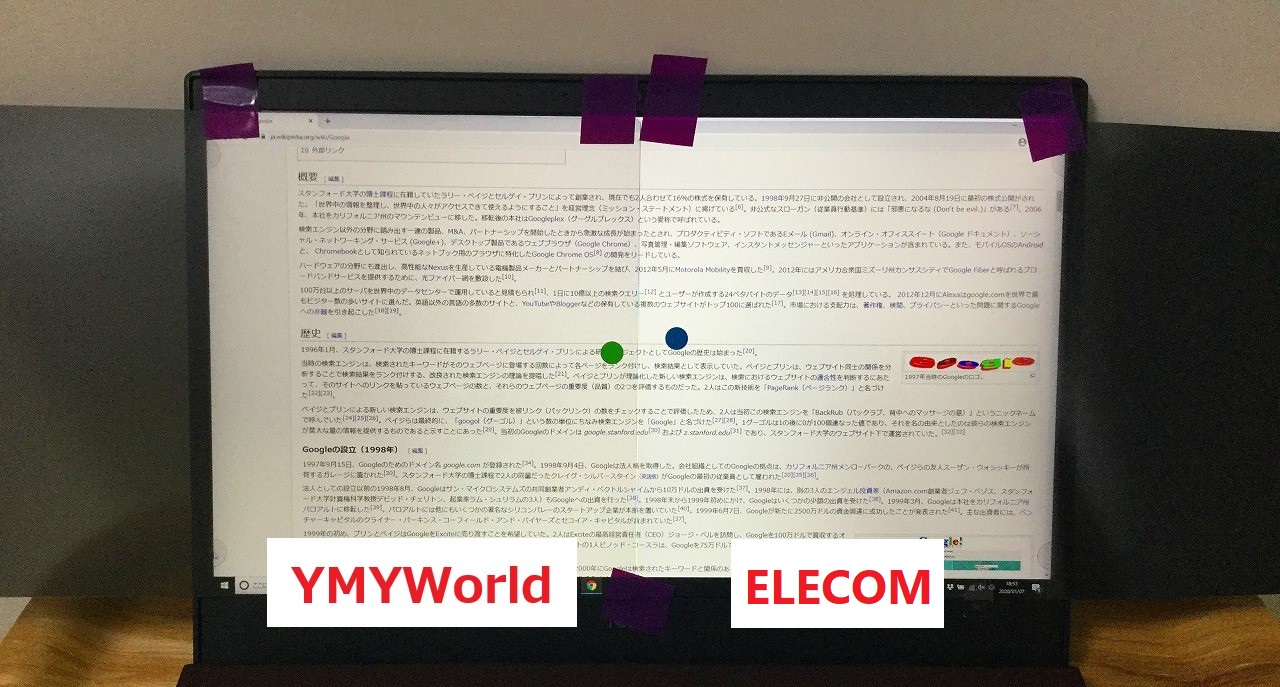 Elecom wins.
Elecom vs. 3M
Left: 3M / Right: ELECOM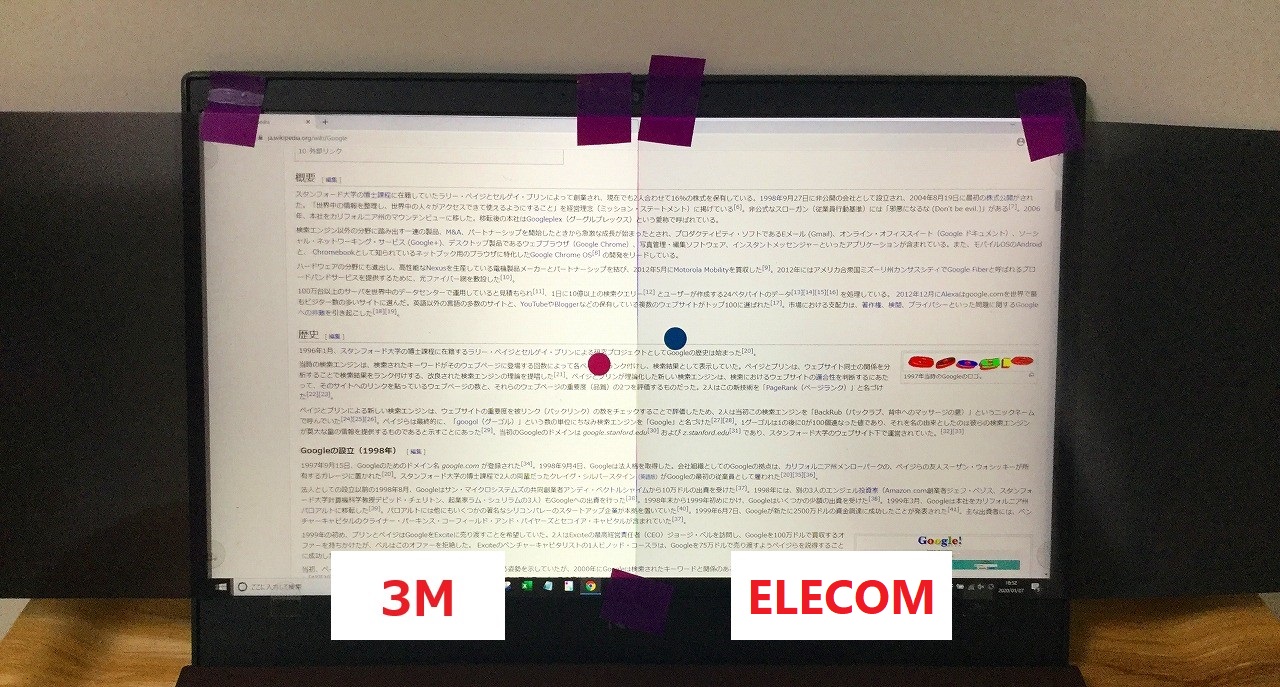 Left: Elecom / Right: 3M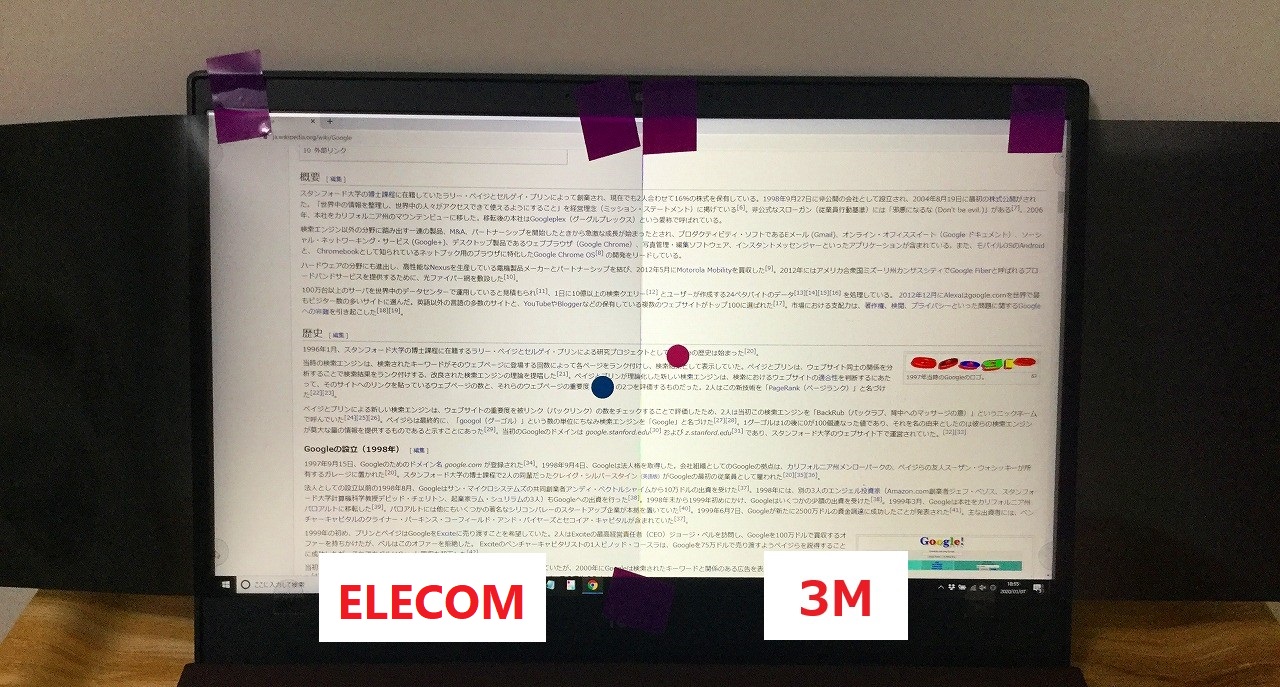 3M wins.
YMYWorld vs 3M
Left: YMYWorld / Right: 3M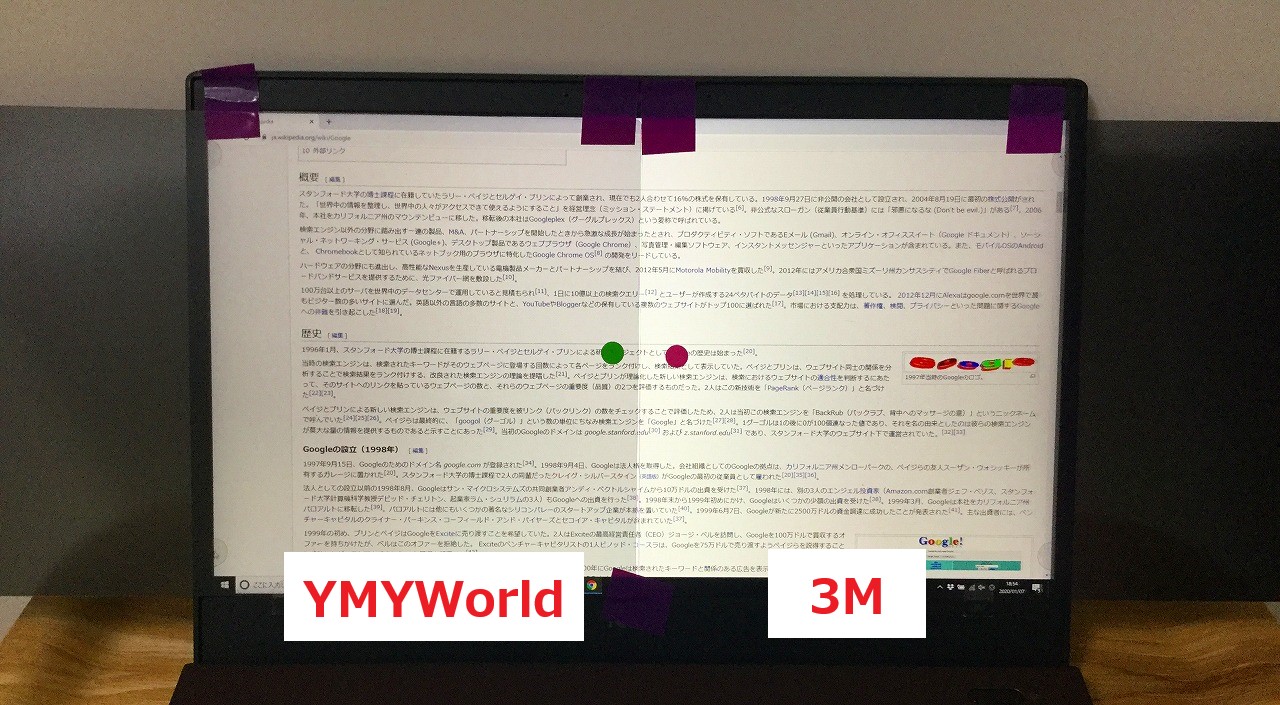 Left: 3M / Right: YMYWorld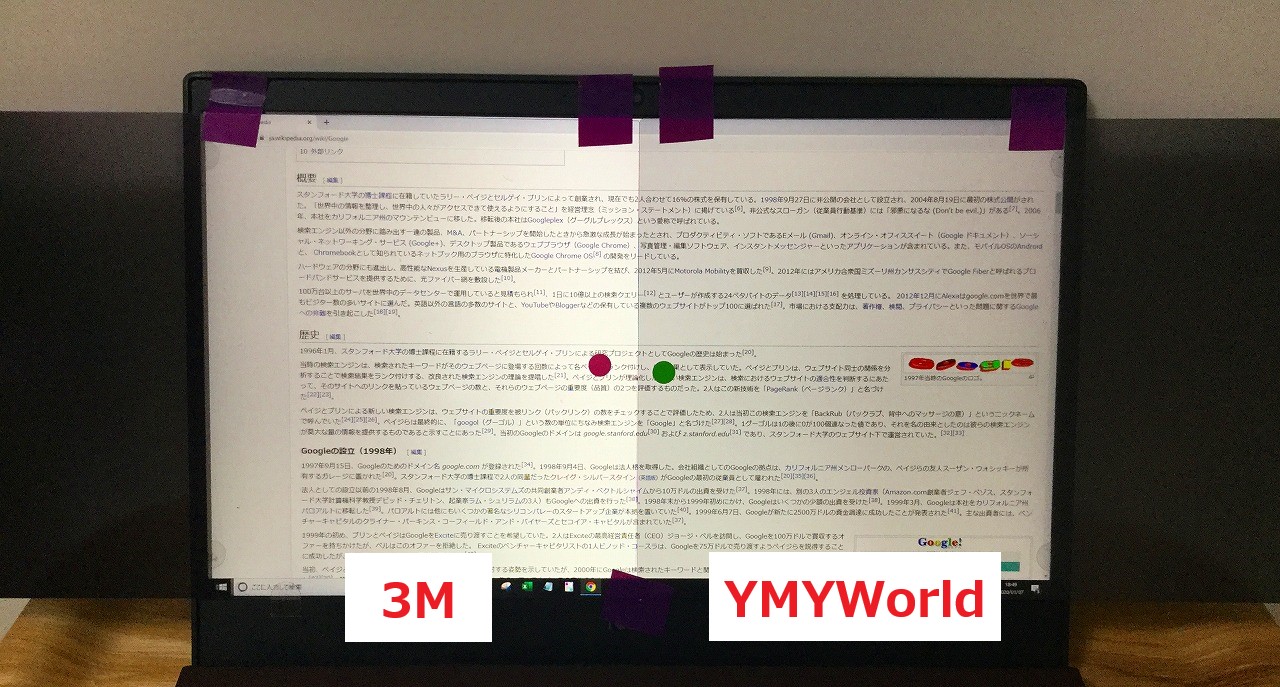 3M overwhelming victory.
3M vs Elecom vs YMYWorld
Left: YMYWorld / Upper right: 3M / Lower right: Elecom This photo is the closest to the actual appearance.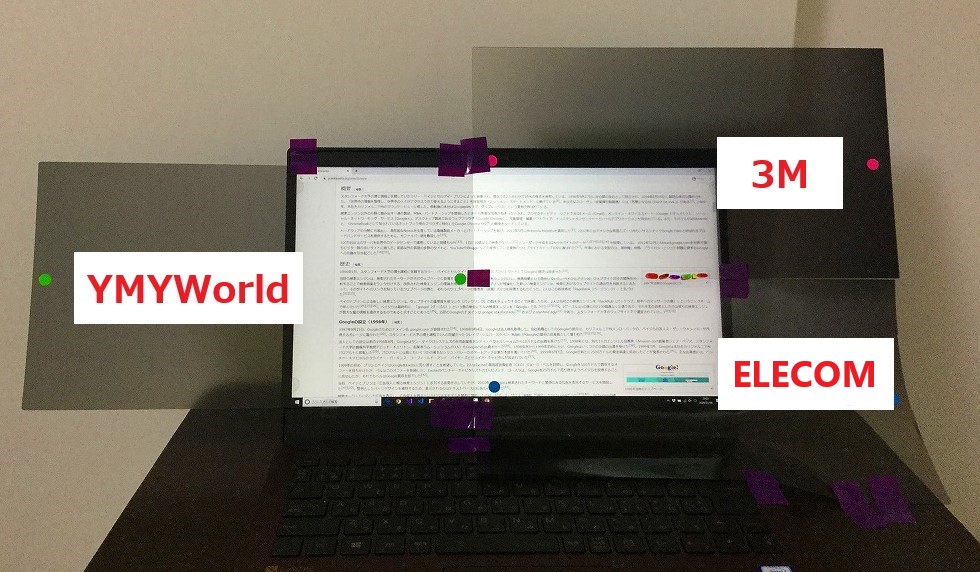 Left: YMYWorld / Upper right: 3M / Lower right: Elecom A little closer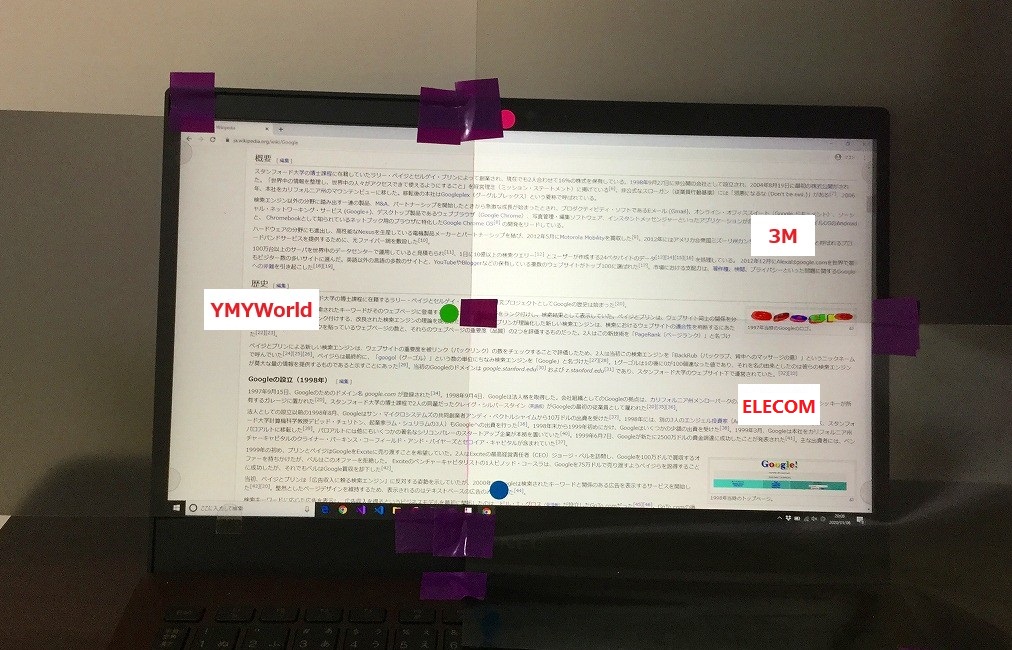 3M is the strongest.
In terms of brightness
3M > Elecom >>> YMYWorld.
As you can see from the first photo of the comparison of the three companies, 3M is the brightest, but Elecom is also bright enough. 3M is yellowish, and Elecom is bluish, so the colors are different.
In the end, my favorite is Elecom.
After comparing three companies, 3M was the winner, but in the end it is Elecom that I am using now.
I initially used 3M because it was the brightest and the most expensive, but after actually using it, I came to the conclusion that Elecom is the easiest to see and work with for me.
Viewing angle is wider in Elecom.
The main reason I use Elecom instead of 3M is that Elecom has a wider viewing angle. 3M seems to have a slightly narrower viewing angle than the others.
Looking at 3M's packaging, the filter for 12.1″ and smaller is 48 degrees, while the filter for 14.1″ and larger is 60 degrees.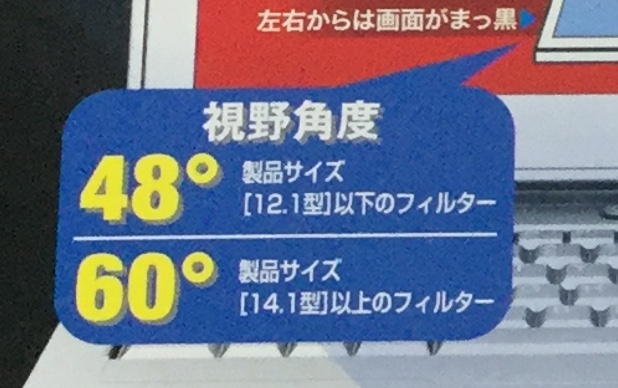 What about 13.3-inch? The viewing angle of 13.3″ is not specified. 13.3″ is the most common PC size, I think. 13.3″ wide has a filter size of 294mm wide, and 14.1″ has a filter size of 285mm, so we can assume that it has a viewing angle of 60 degrees, the same as 14.1″.
I usually look at a PC screen with my left elbow on the screen. At that time, my head leans to the left, so the right edge of the screen is darkened. This is the same for all manufacturers, but 3M is particularly dark. Especially the upper right edge of the screen is darkened by leaning one's head to the left a little bit. I'm guarding my screen from myself…sort of.
The two photos below were taken from slightly to the left, with 3M in the upper right corner and Elecom in the lower right corner.
Top right: 3M / Bottom right: Elecom, taken from a little to the left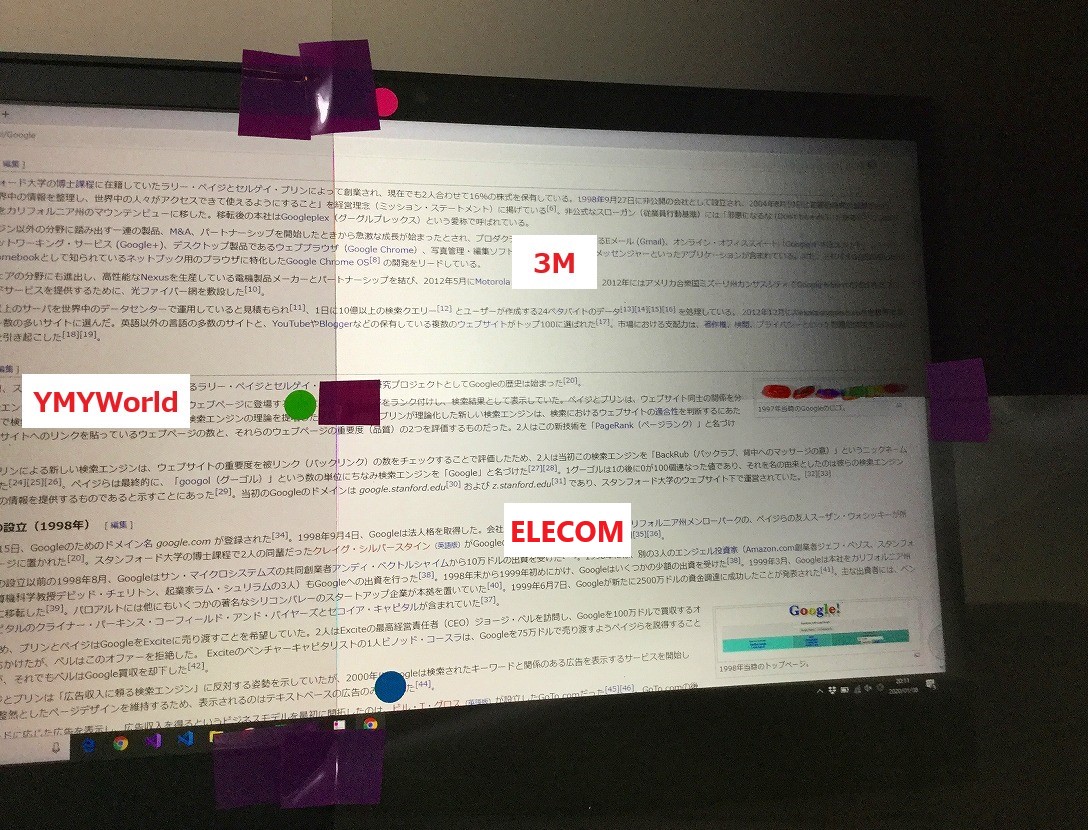 Upper right: 3M / Lower right: Elecom A little to the left, taken away from the screen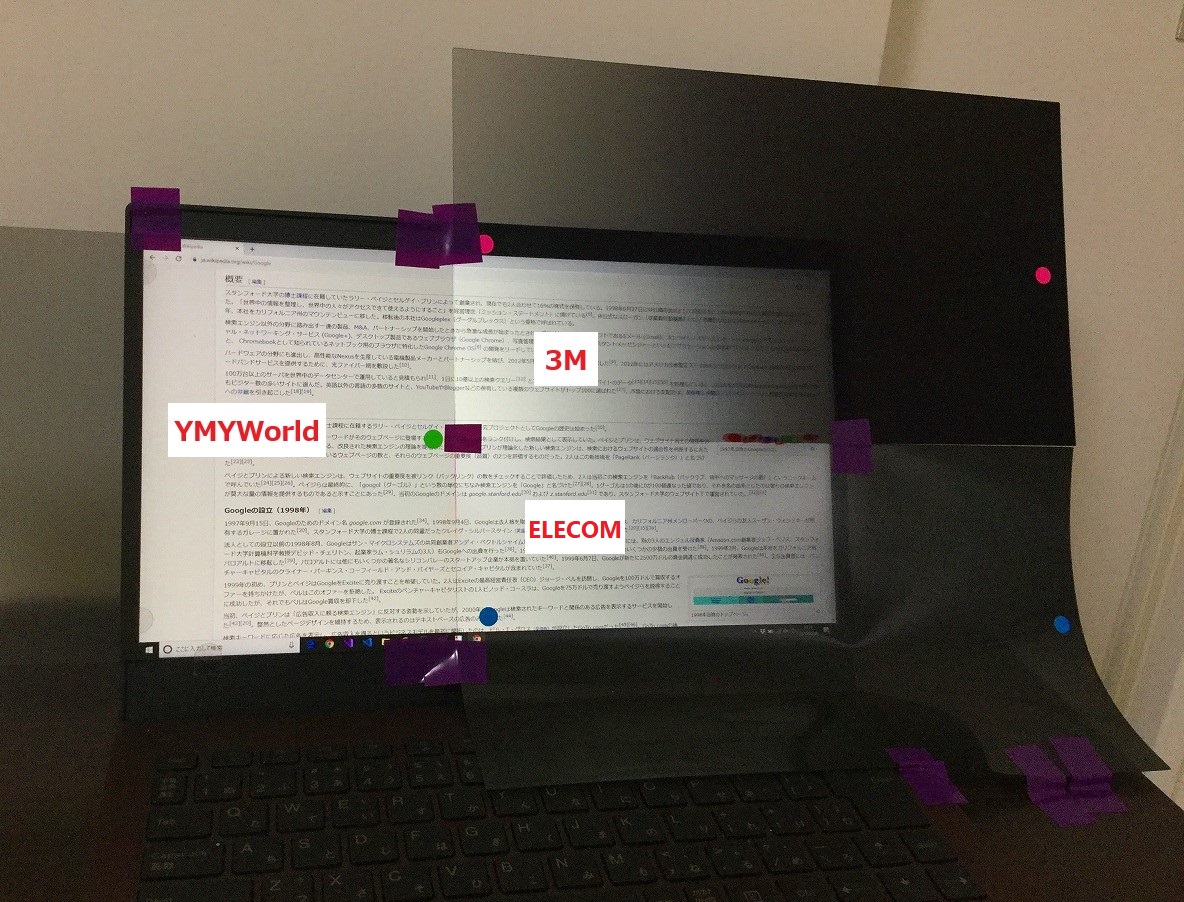 Looking at the above two photos taken from slightly to the left, we can see that the upper right edge where the 3M is placed is darker. Compared to the 3M in the upper right corner, the lower right placement of the Elecom is not darkened.
As with the other photos, the shading is extreme in the photos because the lighter areas appear brighter and the darker areas appear darker in the photos than in real life, but this is how I imagine the upper right edge to be darkened when sitting a little to the left of the PC screen.
When I am deep in thought or when I get stuck, I sometimes lean to the left side of the screen by leaning my head against the screen or leaning my elbow against the screen, which causes my posture to become worse.
It looks bright and clear from the front but becomes darker when moved a little to the side, in other words, 3M could be said to be highly effective in guarding against this problem.
Elecom's thinness makes the text feel clearer.
Elecom is 0.3 mm thick, 3M is 0.5 mm, and YMYWorld is not indicated, but it is slightly softer than 3M, so it is probably 0.40 mm to 0.45 mm.
Elecom's letters are clear because of its thinness; if you actually use the three companies and compare them, you will notice a subtle difference in clarity. The letters on Elecom's display are clearer.
It is natural that the thinner the screen is, the clearer it looks, but another factor that makes it look clearer is the softness of Elecom's screen, which makes the entire surface stick to the screen as if it is being absorbed. The other is perhaps due to the fact that the other products have more firmness, which makes them float slightly.
Both 3M and ELECOM are clear, so only very slightly the ELECOM feels clearer. The higher antireflection ratio of 3M may be due to the fact that 3M is more matte and Elecom appears clearer because it is glossier.
Unfortunately, YMYWorld is clearly less clear than 3M and Elecom, and in extreme cases, the text looks blurry.
Elecom is bright enough.
The brightness of the 3M is excellent, but for me, the Elecom brightness was sufficient. In fact, when I put on the Elecom privacy filter, I set the PC brightness to 80%.
Usually when I don't put on the privacy filter, I set the brightness of my PC screen to about 60% to 80% because 100% brightness is too bright and my eyes get tired. I thought it would be darker with the filter on, so I set it to 100% at first. At first I set the brightness to 100%, but this was too bright. When I put on the Elecom privacy filter, 80% brightness is just right, not too bright and not too dark.
However, the 3M one is of excellent quality and I bought it, so I carry it around in a clear file and use it occasionally for a change. It is still bright.
Elecom cuts blue light *On the other hand
To be honest, the blue light cut is not an important enough factor to give as a reason for choosing Elecom, but just to note, Elecom cuts blue light by about 42%, while 3M does not specify anything about blue light cut. I wonder if they are thorough in their side-guard function.
Not an important factor, I said, but I wondered what kind of blue light cut is, so I bought such a thing.
Writing like this, you may think I am a turncoat for Elecom, but I am neither an Elecom-related person nor an Elecom believer.
Every manufacturer does a good job of guarding.
This is when viewed from behind at an angle; the 3M is pitch black, and even though both Elecom and YMYWorld are not as pitch black as the 3M, it is enough that the contents cannot be seen from the side.
Left: None / Right: Elecom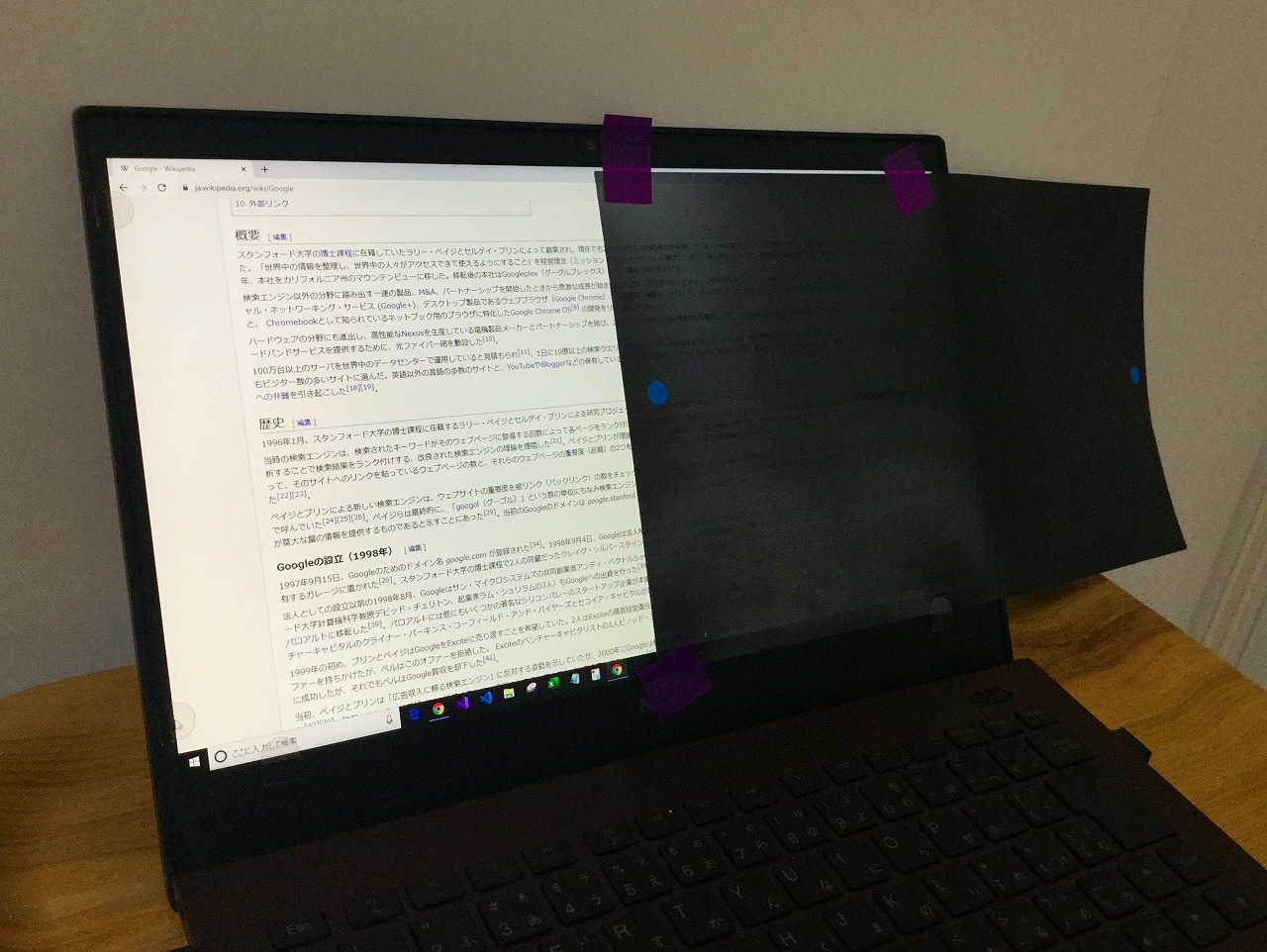 Left: YMYWorld / Right: Elecom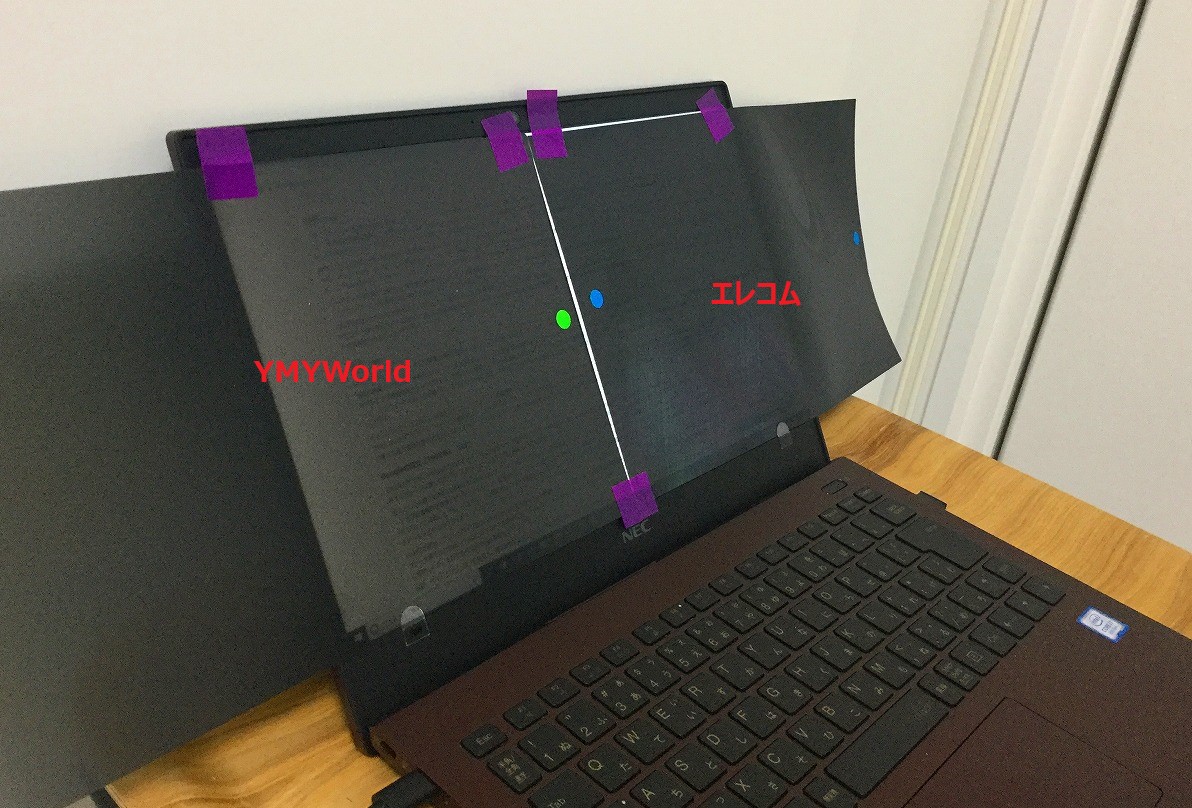 Left: 3M / Right: Elecom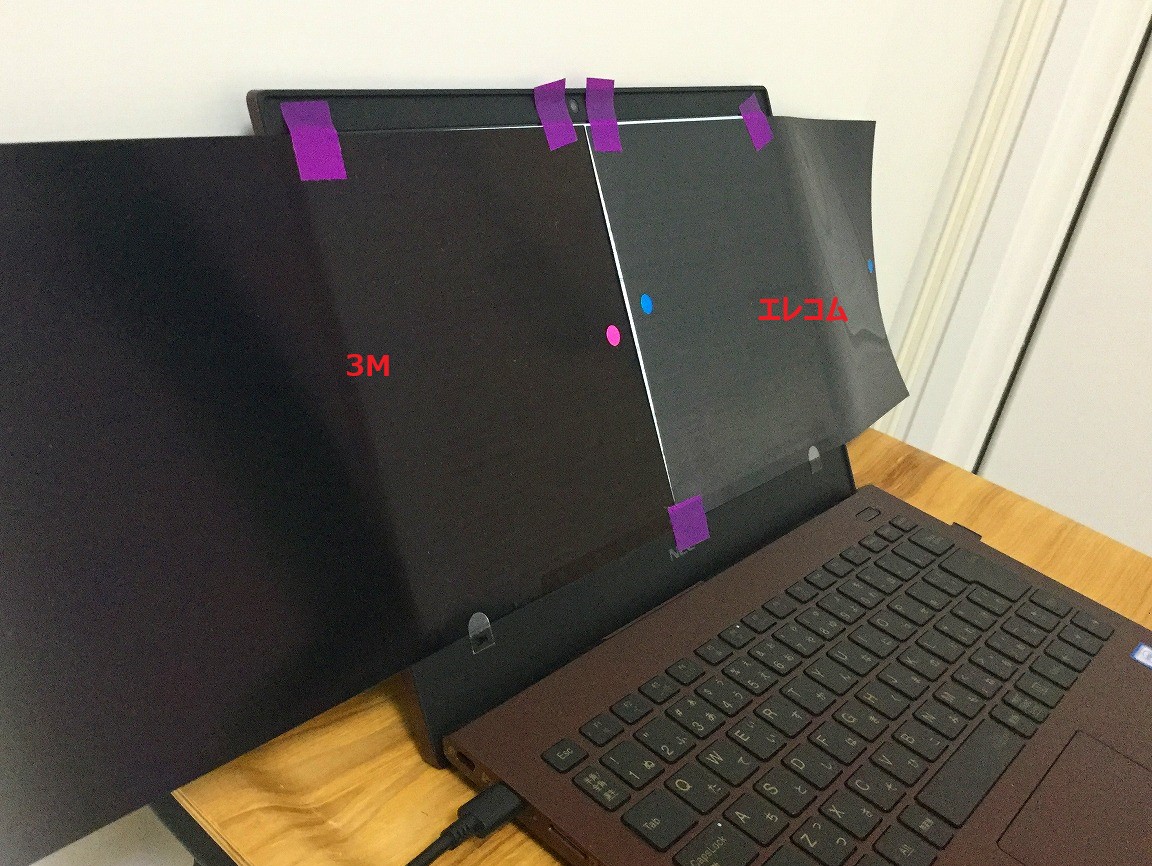 Basically, all manufacturers guard well from the side. 3M is pitch black, however. 3M is also the strongest in terms of guarding.
All manufacturers guard the contents so well that you cannot see them from the side, so it is important to have a brightness and clarity that makes it easy to work with from the front.
It may not be a problem if the screen is dark and the text is hard to read for a few dozen minutes a day, but if it is dark and blurry for more than an hour, working on the screen is nothing but a pain. Your eyes might get worse and your work efficiency will decrease.
Basics of Using Privacy Filters
How to tell the difference between front and back
Front = Matte surface. Only the basic surface is anti-reflective.
Back = Glossy, reflective surface.
Some manufacturers may state in their instruction manuals that either the front or back side can be used. It is true that the anti-peeking effect will be effective no matter which side you put it on.
However, if you use it on the back side, the reflection will make the screen quite difficult to see. Which is it? If you are confused, the back side is the one that reflects your face and lighting well when you put it on the screen.
When you actually try it on and check the front and back, you can see the difference in reflection between the front and back if you check it when the PC is not running and the screen is black, or when the screen is running but the background is dark. If you still can't tell the difference, you can use a white screen.
If you still can't tell the difference, it is probably because you are sitting at an angle where the lighting is completely non-reflective, or you are looking at a screen with a white background, which is not reflective. In such cases, either the front or back side, whichever is easier to see, is fine.
During the daytime, when you are working in a bright place with sunlight, you can work with the back side of the screen because there is no reflection from the lighting, and in fact, the back side seems clearer because it is shiny.
Also, when working in an editor with a black background, the reflections are all over the place, making it impossible to work on the backside of the screen. It's like looking at your own face while you work.
Also, the privacy filter is usually warped on one side or the other. When placed horizontally on a desk, the top and bottom edges are in line with the top, with the surface facing up and the back facing down. Although this is not always the case, all of the 5-6 privacy filters I have checked so far, including some that belonged to other people, have been warped in this way.
The following photo was taken from the side (one short side) of the privacy filter. When placed on the surface, they are all aligned top to bottom (left to right on the photo).
・3M
3M / Top is front, bottom is back


3M / Top is back, bottom is front


・ELECOM
Elecom / Top is the front, bottom is the back *I think it has warped even more since I bought it because I've been using it a lot.


Elecom / Top is back, bottom is front


・YMYWorld
YMYWorld / Top is front, bottom is back


YMYWorld / Top is back, bottom is front


When I first started using the privacy filter, I wondered why it wasn't straight, is it defective? I thought it was defective or something, but the filters I have used so far have always been warped in this way, and I can only assume that the manufacturer is warping them on purpose.
If you use nail tape to fix the filter, the tape can only be attached to the four corners or at least the edges. So, I imagine that if the center is warped so that it is hollow, the center of the screen will be attached to the screen so that it can be held down, and the edges that are slightly raised can be held down by the nail tape. Please let me know if you have seen this.
Nail tape position
The 3M package said 1/3 position, 2 on each side and 1 on the bottom, and when I followed that, the four corners looked pretty floaty and blurry. The warped surface of the filter does not allow the middle to float when the surface is being used. The edges will float anyway.
I shifted the position of the nail tape outward a little, used it for a while, and then shifted it outward a little again, and this is what I settled on after changing it several times.
The position is 1cm from the edge of the top, bottom, left and right. There are six tapes in total: two on the left, two on the right, and two on the bottom.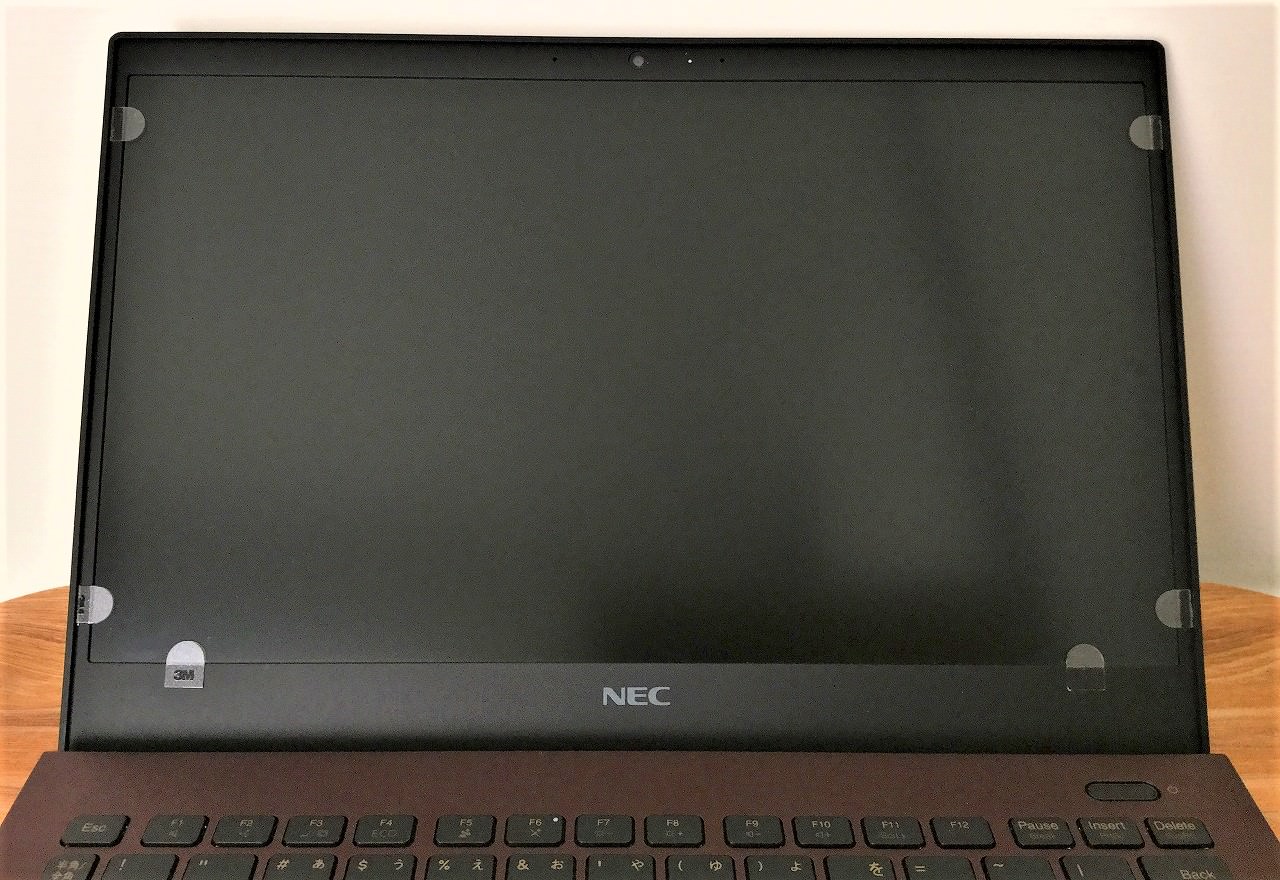 Incidentally, both Elecom and YMYWorld use 3M nail tape. I wonder if nail tape is also a piece of technology. 3M is strong.
13.3-inch wide (16:9) 294mm wide x 165.5mm high and 1cm from the edge is optimal for me. If the screen is larger than 13.3, this position may be too far from the edge and the top and bottom in the middle may float, so in that case, I would put it a little more in the middle or put the nail tape in the middle as well.
Directions are important
If you buy a larger size and cut it yourself, or if you buy a larger one and split it in two, do not change the orientation.
It is the fruit of a well-calculated technique so that it can be seen at a range of 60 degrees when placed sideways and viewed straight on, and appears completely black from all other angles. When cutting, it means that you only need to cut one side straight up and down, or one side straight left and right, while placing it straight horizontally.
If the direction is changed, such as using a horizontal filter vertically, there is no point in using a privacy filter.
Below is a horizontal view of a normal horizontal and vertical filter.
Normal horizontal pattern pitch-black.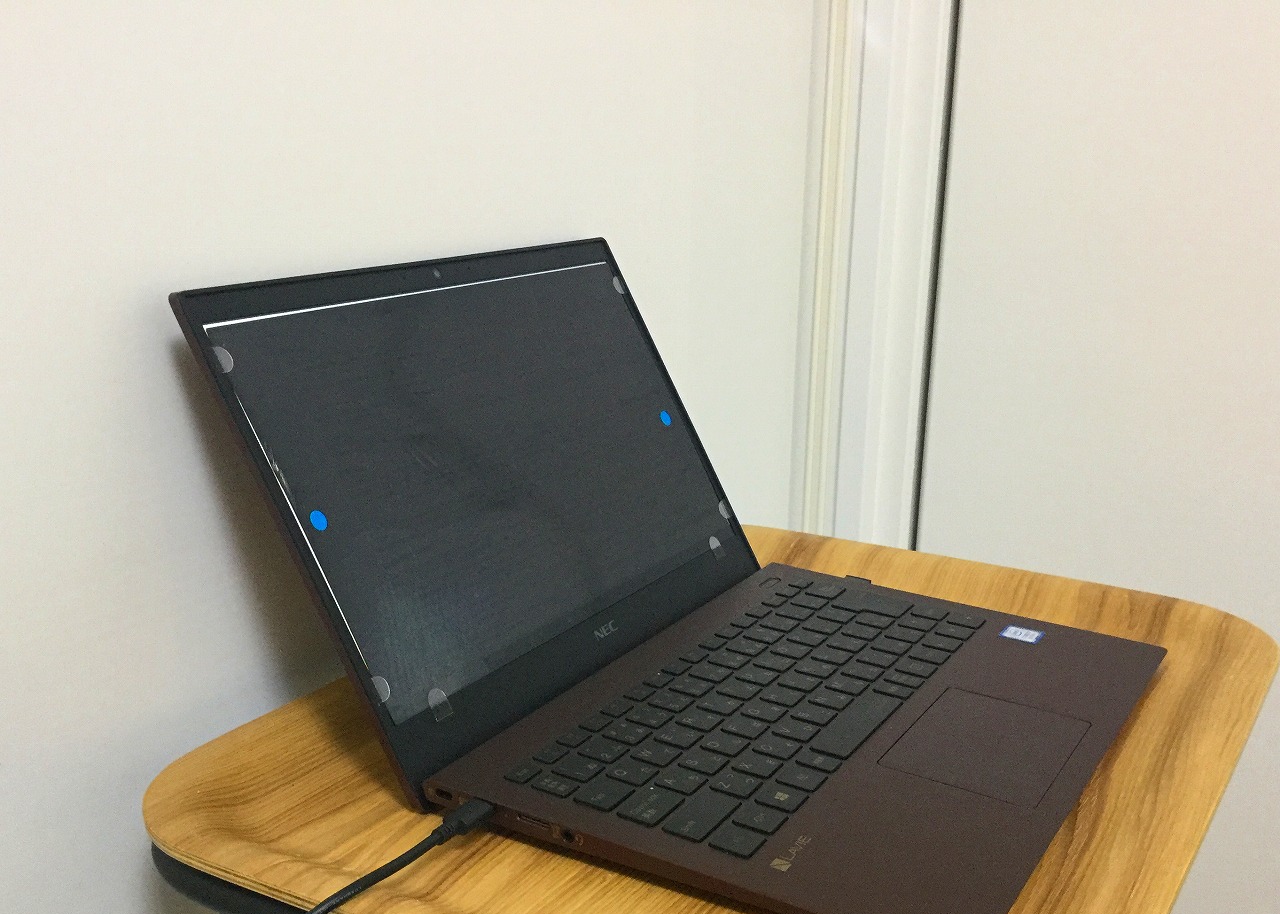 When placed vertically, it is completely visible.

The horizontal normal pattern has a proper guard function and the content is unreadable. Vertical is quite clear of the contents. If you change the direction, it makes no sense to put a privacy filter on for nothing.
Filters are quite delicate
When cleaning, use an eyeglass cleaner or a soft cloth to remove dirt. If you cannot remove stains by wiping dry, wring a wet cloth with water to remove the stains.
Do not use a cloth containing alcohol such as a sterile tissue. It will remove the anti-reflective coating on the surface. I carry a set of eyeglass wipes with the filter because they get fingerprints quite easily.
It is also prone to scratches, so you should not throw it in your bag as it is. I keep the filter attached to my PC at home, but when I carry it around, I put it in a clear file.
Privacy filters required for coworking spaces and shared offices
I've been working in co-working spaces a lot lately, and you'd be surprised how many people work in shared spaces without privacy filters.
If you are simply editing your own blog or something, maybe it's not a problem, but working in a shared space with a client present is a must with a privacy filter. That information is not your property, it is the client's property.
Some people consider themselves professionals, such as tax accountants and accountants. There is no way that the accountant you are asking to work for is exposing your PC screen with your personal information open in a shared space.
There are also people who work with their program code in full view. They may think that it is not a problem because others cannot see what they are writing, but if the program is to be delivered to the client in the end, the code belongs to the client and is the client's information.
If I were in the client's shoes, even if working in a shared space such as a coworking space is unavoidable in this day and age, I would want them to at least put a privacy filter on their work. I would be careful about this as I work outside myself.
The 3M video is a what a nudge.
I was looking at 3M's website when I was researching privacy filters, and I found 3M's video to be somewhat interesting.
First of all, from this package, people are peeking around so much.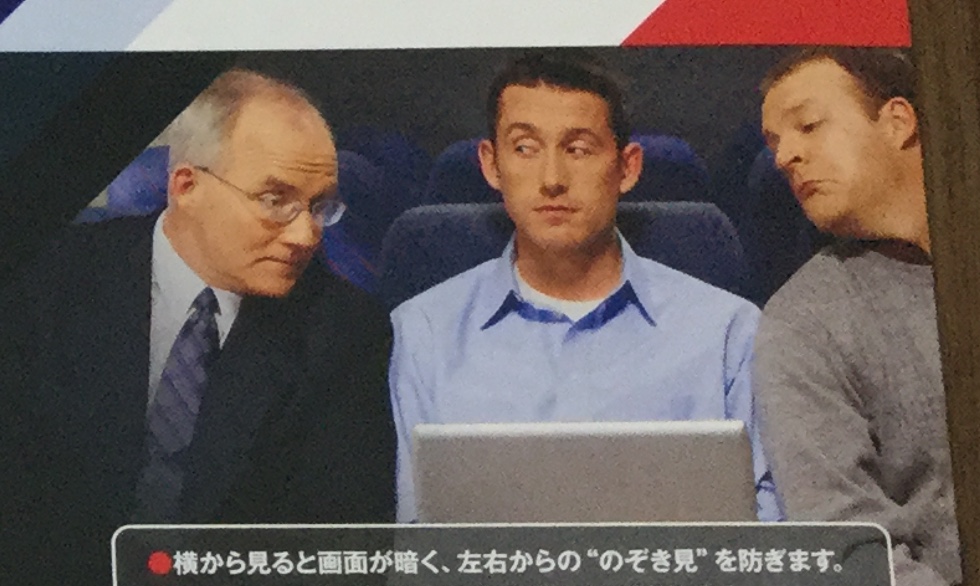 Too much peeking.

Below is a video of the official 3M privacy filter. It seems to be a commercial aired in the U.S. and Europe. People around me are peeping at it. They are peeking in.
It makes you want to say, "Who cares so much about other people's screens? It's a video with a great sense of humor.
3M Visual Hacking Within Organizations (60 Seconds)
3M™ Privacy Filters for Laptops
3M™ Privacy Screen Protectors for Tablets
It is no longer a comedy.
In the past, when I used to peek at my coworkers' screens when we were on the road, forgetting that we both had privacy filters on, and I'd say, "Hey, look at this data," or "Here you go," I think I looked just like these peeping people.
3M™ Privacy Screen Protectors for Smartphones
Stop visual hackers with 3M Brand Privacy Products
Prevent visual hacks with 3M Brand Privacy Products
The expressions on the faces of the performers, both those peering and those being peeped at, are exquisite.